Chartered Accountant FCA
Chartered Banker FCIB
Chartered Secretary FCIS
Chartered Stockbroker FCS
Chartered Arbitration FAIB
Chartered Tax practitioner FCTI
Lance is also a lawyer with LLB, MLS and LLM from Queen Mary,
University of London. He is a Solicitor and Advocate in the Supreme court of
Nigeria and also a Solicitor in the Senior Courts of England and Wales.
He holds Doctoral Fellow in Finance from England and also holds PhD in
Law.
B.SC, FCA, FCS, M.SC and PhD (Economics) UK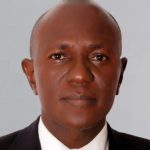 (SAN) BA, LLB. BL, LLM, PhD, Senior Advocate of Nigeria